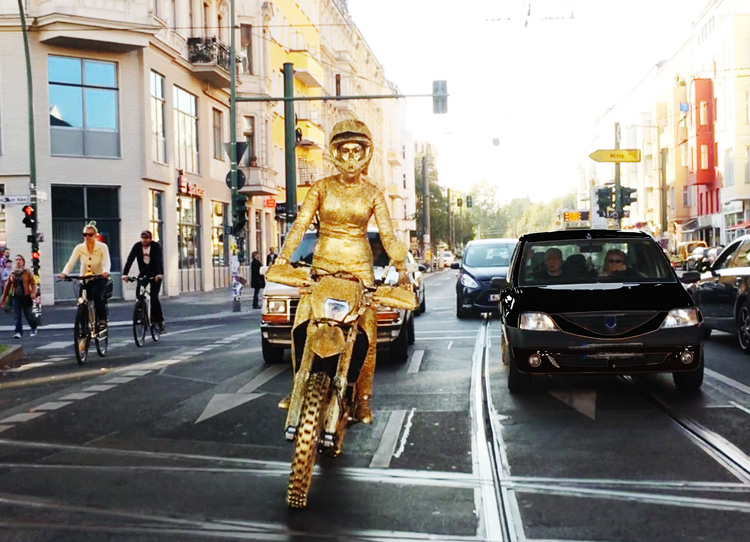 INFO
to see full archive of artwork   click here
---
Ina Viola (born in Heidelberg, Germany) lives and works in Berlin, Germany / Athens, Greece. She studied under the sculptural artist
Tony Cragg
and completed a Masters of Fine Art at UDK Berlin under
Florian Slotawa
and in 2006/ 2007. An exchange at California Institute of the Arts, studying under
Sam Durant
,
Michael Asher
, Marcos Ramirez ERRE,
Charles Gaines
and many more, where she participated in the MFA Art Program.  She has exhibited in a variety group and collaborative projects and exhibitions in Berlin, California, Austria, England, Denmark.
   Ina Violas' practice spans sculpture, installation, drawing, photography and music and reflects on situating small, individual moments, and the individual themselves within a contemporary context which is becoming increasingly over-loaded and over-stimulated.
   Cutting out, framing and zooming-in like a camera lens on a contemporary panorama, Ina Viola shifts focus to simple elements which have become lost. Often referring to simplicities like the movement of grass or the sound of being alone, Ina Violas work gives back a concrete reality to our flux, taking the viewer through alternate tangents in the panorama. In their clearness and simplicity, these objects and their thoughts reflect on our own vulnerabilities and humours in essentially being 'caught-up.' In many of her sculptures and videos, objects which reference power structures of the individual and the society are central. Often turning our expectations on their head, Ina Viola transforms these potent symbols into poetic contemplations on fragility.
   Since 2011 Ina Viola performes with the electronic Artist Collective
TANGOWERK
. Their second Album was released end 2014, since then she started writing her own tracks, whereas the first one was released also on the
Berlin R.O.T- Label
in November 2015 followed by ongoing releases. Working with various artists, Ina Viola has a succesful and constant cooperation with the electronic sound artist
NHOAH (Wien/ Berlin)
---
"Thank you to all my friends and colleagues for the fantastic fotos, videos, texts, ideas, inspirations, journeys, support and the color in my life."
Special thanks to Carola Schmidt, NHOAH+ Staab from R.O.T, Hajo Rehm, Carly Fischer, Katharina Göbel, Stine Marie Jacobsen, Mieko Suzuki, Valeska Rautenberg.
---
Impressum (Angaben gemäß § 5 TMG):
Inhaber: Ina Viola
ina at inaviola dot com
Kastanienallee 26 / 10435 Berlin
Haftungshinweis: Trotz sorgfältiger inhaltlicher Kontrolle übernehmen wir keine Haftung für die Inhalte externer Links. Für den Inhalt der verlinkten Seiten sind ausschließlich deren Betreiber verantwortlich.